Barbecues are the best way of sharing not only good taste of food but gathering with friends and have fun time. Here some of the special places to get a delicious barbecue, you surely won't regret at all! San Antonio has the best restaurants ever, come meet us!
Smoke Shack
It all started as a food truck that quickly gained clients up to opening its own casual smokehouse counter because of the local acclaim. It is a great place if you are looking for traditional southern spin on a Texas BBQ. The menu highlights of the place include potato salad, beef sausage slightly spicy, juicy and creamed corn; or simply ask for the ribs, turkey or brisket grilled cheese sandwich. Wanna find grandma's taste, well those stewed green beans to complete with stewed onions and tomatoes. Right in the Alamo Heights, across the street from the Witte Museum and Brackenridge Park.
2M Smokehouse
Located about 15 minutes from downtown on the east side, you'll find a passion for Texas barbecue. For sure a Mexican taste, if that's what you are looking for, flavors, moist and taste unique of Mexico. Their ribs stand-alone if you don't know what to choose, the brisket moist is op point with the perfect smoke-flavored bark, creamy and well-seasoned beans. A Mexican sweet, roasted and little spicy corn with savory stewed flavor. That's the 2M Smokehouse!
Two Bros. Bbq Market
Innovative pioneer of San Antonio's culture is the Chef Jason Dady developing food with dedication and quality. Restaurant was opened serving Texas Pit BBQ with a family taste and atmosphere, which now includes a brisket, pork, chopped beef, ribs in a tasty sauce and some chicken thighs. Do not forget on trying the elevated mac and cheese with small chunks of sauced beef brisket.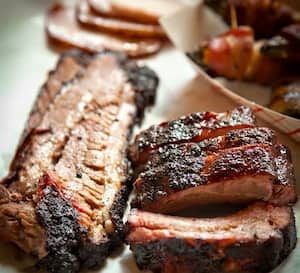 Alamo BBQ Co.
Every standard option of brisket, ribs, sausage, turkey and chopped beef with the perfect smoke is served in this restaurant. The peach cobbler is made freshy for every occasion which for sure is a must order item in here. The BBQs are so delicious that this is Jason's Dady second restaurant, which also has a play yard for the kiddos. Featuring some of the most incredible smoked bacon-wrapped jalapeños, green chile chopped beef queso and chopped Frito pies.
Curry Boys BBQ
When you love two things and have no idea how to put them together. Well, Curry Boys understand the feeling, which is why they created the mixture of barbecue and the Asian taste. An Asian-barbecue, best fusion ever that for sure with satisfy your cravings. Meeting Southeast Asian curry with smoked Texas BBQ. Fragrant jasmine rice, punchy curry, and smoky-tender brisket will make you place the Curry Boys in top of one of the best barbecues in the city.