We have extreme and highly emotional games to play. You love scary stories and aren't afraid of being in a room full of unknown creatures and people that will try to trap you, then here are some good options for you to choose. Hope you can escape and save the world from terrible evil things.
The undead: Zombie Apocalypse Escape Room at Extreme Escape
This extreme game includes surviving to zombie apocalypse, every minute will be full of adventure so hopefully you are ready for it. A 60-minute escape room, to find the doctor in order to stop the infection and save the humanity. Working hard and as a team to survive will be your important work to do.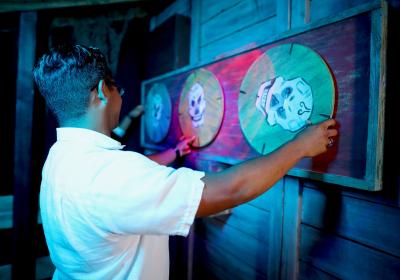 Voodoo Theme Escape Room by Extreme Escape San Antonio
Legend states that ol Haddle does Dark Voodoo in backwater swamps stealing the souls of the wants she wants. That is just part of the whole story you'll have to escape from in 60 minutes, remaining alive in this multidimensional and amazingly realistic experience.
The Other Side: Paranormal Theme Escape Room by Extreme Escape San Antonio
Something is in your closet and has taken a young boy from his family, you must investigate and prove two dimensions have merged in one. You're the last chance and hope of saving the boy before getting trapped and scape as fast as you can. Decades creating this fantastic attraction theme-park style experience.
Mutiny: Pirate Adventure Escape Room at Extreme Escape San Antonio
Pirate Alex captured you and your group and has locked you down in a ship, charged you with mutiny for trying to take over his ship. No one is able to help you since everyone abandoned the ship, find a hidden way out the hold to escape, it is your only key to escape.
Extreme Escape has its next level escape room, take the risks you have to and live this high-quality experience!